Welcome to Friday's Featured Female!
This weekly series features inspirational stories from admirable women.  IMHO, it's always good to be reminded of how strength, determination, hard work, heart and ingenuity can impact the quality of one's life and I'm proud that these women will allow me to share their stories here.
Today's FFF is Carly@FineFitDay.  Carly, an Australian living in my beloved Brooklyn, was a new blogger to me until I went to the A Healthy U Conference.  I knew that if she was there supporting Nellie@BrooklynActiveMama, Cassandre@LosingInTheCity and Kimberly@ManifestYourself and knew with Allie@VitaTrain4Life and Brittany@MyOwnBalance, that Carly was already my people.
Carly understands the healing power of exercise to a greater degree than most people should be familiar with.  The story of her husband's freak illness (which included a coma for 14 days) and recovery (complete with a rehabilitation program that got him to finish a half marathon a year and half later) is truly miraculous.  I know that Carly lives her own manifesto of health and fitness encompassing body, heart, mind and soul.  I wish I knew this Brooklynite when we were both in the same city!   Get to know this super lady right now!
Soooooo have you met Carly?
When Melissa contacted me to write a guest post for Friday's Featured Female, I was honored. I actually got to 'know' Melissa through Instagram and it wasn't until I attended the A Healthy U Conference that I met Melissa in person. I began reading her blog after listening to her speak so well and intelligently about healthy eating and making nutrition a seamless part of your lifestyle.    Her Friday's Featured Female series is one of my favorite parts of her blog, because I am also all about promoting, nurturing and spotlighting awesome women in my own writing and career.
I'm a certified personal trainer. Now, a funny thing happens when people find out you're a personal trainer. If you're out for dinner, people start justifying their ordering choices, or their hand stalls in mid-air en route to the bread basket. You get asked a lot of advice on aches, pains and what on earth to do in the gym. There's an assumption that you don't drink (ha!), never eat chocolate (au contraire) and work out every day (big fan of the rest day here). Oh, and that you are spending every moment judging everyone else's eating and exercise choices. I haven't always been a personal trainer, though, so I remember having similar ideas about trainers, or really any kind of fitness professional.
I have a degree in Art History and started out working in art galleries and museums. It was actually this career that brought me to New York from Australia 14 years ago. Eventually I ended up working in a high-end retail store for one-of-a-kind handmade rugs designed by some of the top interior and fashion designers. I started out loving it, but gradually became disillusioned with the idea that my job was more about selling than the art and beauty behind the product. As I became less satisfied with my career, I began working out more and getting into running pretty seriously.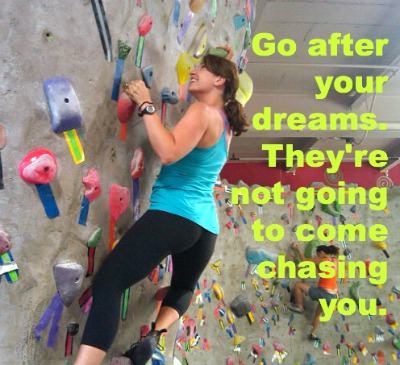 By this time, much of the joy in my life was from my solo run in Prospect Park before work, or heading to the gym with either my husband or my best friend. That's when I got a call from my mum back home in Australia to tell me she had a brain tumor. While it was benign, she needed to have surgery. I freaked out. Lost it. Not just that day, on the phone, but for the next full week before I headed back to be there for the surgery. I'm talking full-blown panic attacks on the subway and crying jags in the work bathroom. In retrospect, I think my overwhelming unhappiness with my professional life, coupled with the news about my mum just made me come undone. My mum's surgery went well, I flew back to New York, then a few weeks later found out that her recovery was not all sunshine and roses like my family had been pretending. They were trying to avoid me having a second meltdown, I think. She was unsure where she was, what year it was and was regressing by the day.
I flew back to Australia again. (Despite my unhappiness at work, the company was amazing about giving me unpaid leave to be with my family throughout this time). This time, the day I arrived, a doctor took my dad and I aside to tell us we should look into assisted living or a live-in nurse, because there didn't seem to be any hope for her situation. The next six weeks were a blur of my dad, brother and me at her bedside. She was semi-comatose, totally unaware of her surroundings and tube fed. The doctors had no idea what was wrong. They tested for everything and came up with nothing. It was devastating.
Every morning I would run, or work out at the local gym in my hometown. It kept me sane. It kept me centered. Eventually, I knew I needed to return – there was the small point of me having a husband, cats, job and life back in NYC, all ticking along without me, after all. When I left, my dad was researching making their house wheelchair friendly and looking into home care. Shortly after I'd arrived back, my dad called to ask me if I wanted to talk to mum. "We're just down in the cafeteria, having a cup of coffee." That sounded bizarre, then the next thing I heard was my mum's voice, asking me how I was and telling me how well she felt and that she'd be going home soon. To this day, we have no idea if it was one of the constant trials of new medications, the stent in her head, or something else entirely, but she made a full recovery, with few after effects.
That was it for me. My a-ha moment. Life is SHORT. Sometimes it's shorter than you can ever imagine and sometimes everything in your life changes in an instant. Life is way too short and important to spend 40 or 50 hours a week doing something that makes you unhappy. Remembering advice from someone who told me, "You should do for a living what you love doing on the weekend," I began researching personal training schools and certifications within a week of that conversation with my mum. A month later I quit my job. And less than six months later, I was working as a personal trainer and found myself actually happy and excited to go to work every day, thrilled at the chance to attend training workshops and conferences and feeling like I was making a difference in people's lives.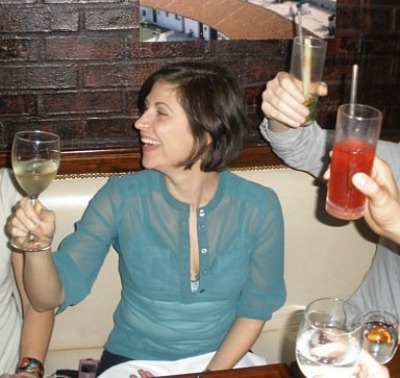 This is the face of a blissfully happy woman – at her going away dinner after quitting her job.
What I love most of all is being privy to my own clients' a-ha moments, when something clicks and they feel happier, or stronger, or more accomplished because of something we're working on together in their training. It's an experience that can't be beat. My hope with Fine Fit Day is that my readers have their own moment where something I write or share resonates with them, or they're inspired to try something new after reading about it on the blog. Enjoy every moment of your life – and yes, for me that means feeling healthy and well and strong and fit, as well as sharing that with others. Go after what makes you happy. You'll never regret it.
You can find Carly at her blog Fine Fit Day, and on social media on Twitter, Facebook, Pinterest, and Instagram.
What major life change have you made that was inspired by something completely unexpected?